Have you ever gotten jealous of another author's book launch? Obviously, you're excited for your peer to be able to vault his or her book into the Amazon Top 1,000, but you can't help but wish that your own work could reach the same heights time in and time out. If you want the kind of results other authors will be jealous of, then you need to put in the effort to build up your email list.
Emails are far more targeted than social media posts or Google search traffic. It's a good use of your time and money as well. According to the Direct Marketing Association, email marketing has a 4300 percent return on investment. The authors with the best results have leveraged the power of email to help them sell more books.
Here are five ways to build up your email list to find true fans of your work:
Optimize Your Landing Page
Your readers, like most people in the digital age, enjoy clicking on links. A well designed website has attractive links to visit the pages for each of your books and your latest blog posts. When a potential fan visits your mailing list signup page, however, you want her to do one thing and one thing only. You need to ensure these visitors join your list before they click elsewhere.
Using a landing page, also known as a squeeze page, can help you make sure that readers who visit the page don't leave until they sign up for your list. These pages are absent of all other links within your site, except for the mailing list signup form. Readers can only take one of two possible actions on a squeeze page. They can either sign up for your list or they can leave.
In a guest post on David Gaughran's blog, author Nick Stephenson talked about the use of squeeze pages to bring more people into his email list. After setting up the page, which was devoid of any links or buttons aside from the email signup form, he started getting 60 percent of the people who visited the page to join his list.
In WordPress, you can create a squeeze page on some themes by selecting the blank template option. This will take away your sidebar and header links, leaving you with nothing but the text you write and the code for your signup form. You can also buy premium plugins like LeadPages, OptimizePress 2.0, and WordPress Landing Pages to beef up your signup pages.
2. Put Calls to Action in Your Book
Once you've created your landing page, you need to start sending people there. While there are many ways to send traffic to a certain page, you'd be best served by only funneling targeted traffic to your landing page. Target people who read and like your books by placing calls to action (CTAs) in the front and back of your book.
In the book Write. Publish. Repeat. authors Sean Platt and Johnny B. Truant talk endlessly about the importance of CTAs. A CTA consists of two parts: asking a reader to take a certain action and linking to the post where he can take that action. The most successful authors are CTA powerhouses, using CTAs to get readers to buy more books, leave reviews, and join their email lists.
Place a CTA in the front and back of your books compelling readers to join your email list. Here's an example of a CTA you could use:
Want to find out more about Erik's adventures? Click here to join the Erik the Dancing Viking email list.
In addition to placing CTAs in the front and back of your book, you should use CTAs on your website, at the end of any guests posts you write, or in the closing seconds of your podcast interviews. Your chances of getting someone to sign up to your email list go up significantly when you ask a person to do it.
 3. Give Away Freebies
It's important to put yourself into your readers' shoes when it comes to mailing lists. What does it usually take for you to subscribe to another author's list or the list for an online retailer? In many cases, these authors or e-retailers provide you with an incentive or coupon. Authors with large lists typically provide their readers with a free book for signing up.
There are many different things you can provide that will make readers excited to join your list. Offer the first few chapters of your book for free or consider gifting your entire novel. Some authors offer audio content or a special bonus that ties in with their series. You can use this free item as part of your CTA in the back of your book.
Here's an example of that amended CTA:
Want to keep reading? Receive a free copy of the second book in the series right now. Click here to join the Erik the Dancing Viking email list and get your free book!
There are several different ways you can deliver the free gift. You can host the file on your site or on Amazon Web Services and provide it as a link in your first email autoresponder. You can also use Leads, a free website extension offered by SumoMe. Make it easy for readers to download the free gift so you don't spend your writing time answering tech support emails.
One thing to keep in mind here is that some readers will only join your list to get the free book. After that, some of them will never read one of your emails again. Make sure to check your email stats from time to time to remove readers who aren't active. This will keep your costs down and your open rates high.
4. Add a Popup to Your Website
Popups are hotly contested among authors. Popups, popovers, and lightboxes are windows with messages that interrupt your website visitors' viewing experience. This interruption provides your readers with a CTA to sign up to your email list. Most web visitors have experienced a popup at once time or another, and some associate the messages with spam or viruses.
Since many authors think popups qualify as spam, they refuse to use them to bring more email subscribers into their lists. According to AWeber, popups can increase email signups over 1,000 percent. It's a staggering number, and the results alone should make popups worth considering.
Many Internet users have become desensitized to popups at their favorite retailers, so it's unlikely that you'll receive complaints if you apply them to your site. It's also rare that someone who was interested in following you will decide to avoid you because you used a popup. A visitor to your personal author website probably wants to learn more about you. Giving her a convenient popup signup form is helping her find exactly what she wants.
You can create these popups directly in AWeber. Just place the code on each page or in a header that appears on all pages on your site. You can also create popups for free through SumoMe's List Builder or through premium services like PopUp Domination or OptinMonster.
5. Create a Viral Giveaway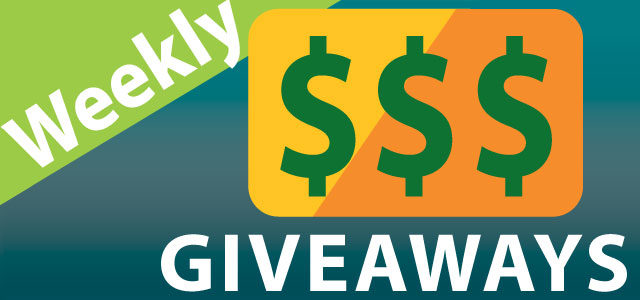 There are many authors using the above four steps to build their email lists. It's important to try to stand out among the crowd, and one of the ways to do that is to create a viral giveaway tied to your list.
Put yourself in yours readers' shoes again. Would you be more or less likely to give your email address to a website if you had a chance to win a free $20 Amazon gift card or a signed paperback? If you already liked the site, then the giveaway might be just enough to put you over the top to enter your information.
Viral giveaway services like Rafflecopter and KingSumo Giveaways allow you to take these giveaways to the next level. These services provide extra incentive to entrants to share the giveaways with their friends and followers. You can set up each sweepstakes to give users more entries if they share it on Facebook, Twitter, Pinterest and elsewhere. When entrants spread the word about your giveaways, you can reach new potential fans you never would've found on your own.
The most sharable giveaways are the ones with the best prizes. You can provide items like signed paperbacks, audiobooks, and even Kindle devices loaded with your books. The better the prize, the more likely you are to get signups.
Rafflecopter has a free and a paid option, while KingSumo Giveaways costs $199. You can get a 50 percent discount on the service by clicking on the Powered by KingSumo Giveaways button at the end of any giveaway.
Keep in mind that giveaways run into the same problem as giving your readers a free item for joining your email list. You'll get some people who are only interested in free goodies. For this reason, it's a good idea to import these email addresses into a different list from your main one. These email addresses will be less targeted, so you won't want to send them emails as often as your primary list.
Make sure to tell them how to join your main list in one of your autoresponders, but you should expect less than 20 percent of them to move over. If you get a couple thousand subscribers from the giveaway, then even 20 percent or less will give your list a significant boost.
More Writing Will Lead to More Subscribers
One more surefire way to bring more subscribers to your list is to write more books. Voracious readers see an author with three, four, five, or more books and get excited, particularly when the books are part of a series. When you have more books, the chance that readers will want to follow you grows exponentially.
There's also a lot more you can do with your marketing when you have additional books. You can give away the first book in a series for free and entice readers to join your email list by getting the second book free as well. More books also mean more calls to action. No wonder so many indie authors recommend that you spend less time marketing and more time in the writing chair.
Building up the kind of email list you need to do a massive launch will take time. Once you've honed your email signup system, however, you'll inspire excitement for your readers and jealousy amongst your author colleagues.
Listen To This Episode
Press play below to listen, and be sure to subscribe to the podcast on iTunes to get updated on all new episodes.