When you're producing an audiobook project using ACX's Royalty Share program, auditioning a narrator is a two-way street. Not only are you trying to find a narrator who's a perfect fit for your book. The narrator is also judging your book to determine if it's a worthy endeavor. You need to keep both sides of the audition in mind when you post your project.
Your project needs to be very appealing because you want to audition as many talented narrators as possible. The larger pool of individuals you have to choose from, the better your chances that you'll pick a winner. Here is the seven-step process to audition a narrator for your project:
1. Make Your Pitch
While there are many basic pieces of information you need to fill in when you post your project, the description section is where you'll make your pitch. Narrators want to know how well your book has sold in other formats, why the story will be enjoyable to tell in audio format, and how you plan to market the audio version. The more specific you are, the better.
Narrators have a limited amount of time to audition for projects. Your listing needs to sound better than the other guy's. Read several audiobook project pages on ACX and try to borrow the best parts of each to make your pitch even more appealing.
2. Create a Script
The script is a part of your book that you'll use to audition the narrators. You'll hear samples of the script you choose as audio files when your narrators audition. These audio snippets will help you decide the best person for the job, so you better choose your script wisely.
Pick short segments from a couple of scenes that let your narrator work on multiple characters from your book. Since your script should be no more than a couple of pages, it's okay to cherry-pick a few lines here and there. You need to see what kind of range your potential narrator has without including so many scenes that he or she doesn't even want to audition. You're walking a tightrope here, but always err on the side of a shorter script that will take the narrator less time to work on.
3. Apply for the Stipend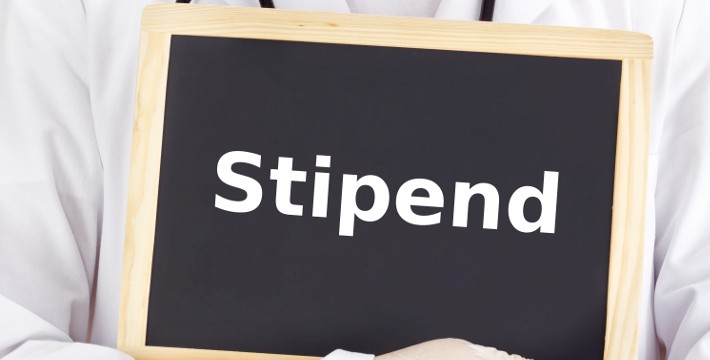 Your book will get a lot more auditions if you get the ACX stipend. When narrators know they'll get a guaranteed $100 an hour even if the book tanks, there's less risk and more reward. Apply for the stipend by submitting a pitch through the ACX support email. The pitch will be similar to the one you posted on your project. Make sure to go into a lot of detail about your marketing plans. ACX wants to know you're serious about your book, because they don't want to give the stipend to just any project. ACX is a business, and your book needs to be a good investment. If you're approved for the stipend, the project will show an icon in the top corner to entice more narrators.
4. Listen to Your Auditions
Even without the stipend, you're bound to get a few auditions if your project sounds appealing enough. As they come rolling in, start listening and take some notes. What do you like or dislike about each candidate? What kind of reviews have their previous books received? Have they produced enough books to gain ACX approved narrator status?
Continue note taking as you wait a week or so for auditions to come in. If you find a winner right away, it's still a good idea to wait for more candidates just to weigh your options. When you've got a clear winner, you can skip the next step. If you remain on the fence, you've got one more option.
5. Hunt for Additional Narrators
ACX has plenty of narrators to choose from, and most of them likely won't see your listing unless you tell them about it. If you aren't happy with your selection pool, then you can begin hunting for other narrators and listen to samples. This can be a time consuming process, but you'll widen your net considerably.
If you find the perfect voice, then you can invite the narrator to audition for your project. There are no guarantees this person will be available, so it's a good idea to have a couple of backups in mind as well.
6. Reach Out to Your #1 Choice
Before you offer the project to your top choice, it's a good idea to reach out to your potential narrator. Using ACX's message system, obtain the person's email and phone number and set up a meeting. The reason for doing this is simple. Just because a person has the perfect voice doesn't mean you'll work well together.
The meeting is like a second job interview. You'll want to ask questions about the narrator's process and what they'll typically do to market their books. If it seems like the person knows what he's doing, you can go ahead and make the offer. If you have clashing personalities or something about the narrator rubs you the wrong way, you can always reconsider your choice.
7. Make Your Offer
With your top candidate firmly locked down, there's only one thing left to do: make the official offer. If you've discussed dates and schedules, you can include those dates as part of the offer. Keep in mind that projects with the stipend must be completed in 60 days, so make sure your narrator is prepared to accept the offer when you make it. You can delay the offer as long as you need to.
The Double Audition
Narrators don't owe you a thing. The ACX Royalty Share audition process is very 50/50 in that both parties are auditioning for each other. Be on your best behavior. Never ask for too much too fast. Don't just look for a narrator. Seek out a partner who will help your project to succeed creatively and financially for the both of you.