by Glynnis Campbell
Have you ever considered being part of an anthology?
There are definite perks.
You only have to write a fraction of a novel. You get to work with writers you trust and admire. You can link a novella to your own existing series. And when your book hits the shelves, your promotion quotient increases by the number of authors.
But there are challenges, too.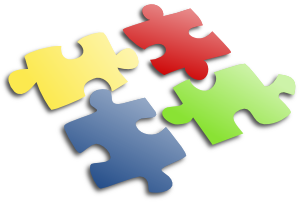 Writers are by nature solitary creatures. Creative people are stubborn about their opinions. And romantics get their feelings crushed easily. Put all three together, and you must think before you speak. On any given day, you may be treading on eggshells or walking on broken glass. You must be honest but careful with words and realize that no idea is so precious than it can't be compromised for the sake of harmony.
So how to begin?
For my latest historical romance anthology with Tanya Anne Crosby and Laurin Wittig, it started with a bottle of wine in the lobby at a writer's conference, brainstorming until the wee hours.
At first it felt like we were working on different puzzles.
Tanya hoped to write a prequel to her Guardian of the Stone series, featuring the legend of a Pictish goddess from the Dark Ages.
Laurin needed to tie her novella in to her well-loved Scottish Highland romances, the Kilmartin Glen series.
And the story for my Tudor-set Scottish Lasses series had to revolve around an event in Mary Queen of Scots' life.
What we needed was a thread to not only tie all our novellas together, but to allow us the freedom to go seamlessly off into our own series.
So how do you find that thread? You can give stories characters or themes in common. You can place the stories in the same magical setting. You can connect the stories with an object like an heirloom jewel or a legendary sword passed from hand to hand.
After hours of juggling ideas, we came up with an object to link our stories—the Winter Stone—an ancient crystal with mysterious properties, carried from Keeper to Keeper down through the ages.
Of course, in the jigsaw puzzle of book-writing, this is only the outside frame. There's still the entire middle to complete. There are more challenges ahead. For us, these challenges were magnified by the fact that we lived thousands of miles apart.
We went back and forth on the size and properties of The Winter Stone.
We compared plot points to be sure they didn't conflict.
We played tug-of-war with the level of the paranormal element we wanted.
But in the end, with communication, understanding, compromise, and a lot of heart, every last piece of the jigsaw puzzle came together, and THE WINTER STONE was born.
So if you're patient, if you can see the big picture, and if you enjoy turning pieces on their heads and trying to make them all fit, maybe an anthology is for you!