A new trend with movie trailer premieres involves actors introducing their latest films. Why do you think movie studios are testing this out? It's because seeing the actor out of character leads to a more personal connection. They aren't just stars, they're real people who are genuinely excited for their upcoming project. In the age of Twitter, even a short video clip from a famous person can feel like the start of a deeper relationship.
This is a trend that indie authors can also take advantage. Readers are used to checking out your words and then moving onto the next book. What if you could add something to that? What if you could make the same connection that these actors are making by enlisting the help of video? With the right equipment, you can share video content with your readers that will make them feel as though they know you better. Richer relationships with your fans will result in more shares, more sales, and more reads of your future books.
Here are six ways to use video to enhance your author platform:
1. Show Your Professionalism
Ten years ago, you would've needed to invest thousands of dollars into the right video equipment for this kind of project. That is no longer the case. While a decent lighting kit and camera will set you back a few hundred bucks, this is an expense that will pay dividends in the future. It can be such a challenge to set yourself apart from other authors. Professional-quality video is a great way to do it.
Convert parts of the content you share with your readers into video. Instead of a simple text auto responder on your email list, you can link to a high-quality video on YouTube. You can add a video to your author page on Amazon. You can even create book trailers in which you discuss each individual book in your catalog on your website. Just using videos in those three instances will put you ahead of 99% of the authors out there. Going beyond that, will cause you to rise even higher.
2. Show Your Personality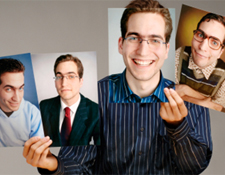 Once you got some good equipment in your corner, you can start taking your video production to new heights. Beyond the simple trailers and getting-to-know-you videos, you can start to show your readers your personality. Video demonstrates and enhances all of the quirks that make you who you are. That might make you feel a little bit self-conscious, but it really is a positive thing.
There are thousands of eccentric personalities on YouTube. Many of the content creators on that site are willing to put themselves out there completely. They're rewarded with thousands to millions of subscribers. You may be afraid to open yourself up, but many of the people who do find that there are way more people who like them for who they are than they ever thought possible.
There's no need to hide your personality. Video allows more people to like you for who you are, and the more they like you, the more often they'll buy your books.
3. More Marketability
Video opens you up to many different opportunities from a marketing standpoint. They let you tap into multimedia collaborations with other authors, new types of advertisements on Facebook, and courses on platforms like Udemy. Posts with videos on Facebook and Twitter get way more shares and Likes than text alone. Having professional-quality video as a resource, simply makes you more marketable as an author.
4. Stand Out From The Crowd
How many authors in your genre have you seen in a video? Probably not that many. Do you realize how big of an opportunity that gives you? Whenever you have the chance to stand out amongst all the other authors in your genre, you have to be the one to take it.
Film yourself in videos talking about your genre and your books. Touch on subjects that readers of your genre would love to learn more about. Be the author who has a skill set that distinguishes him or her from the rest of the pack.
5. A Whole New Audience
It would be easy to simply say that YouTube has hundreds of millions of video watchers, but YouTube also has a vibrant reading community. Booktubers are online video book reviewers. A quick search of booktubers on YouTube will reveal that many of these enterprising reviewers have hundreds of thousands of followers. Once again, this opens several different windows of promotion.
You can contact these booktubers and decide to do some kind of video collaboration. You can also start your own booktubing channel and work your way into the community that way. There's also the method of targeting the viewers of these booktube channels in advertisements and other promotions. Video is the best way to tap into this vibrant audience of readers.
6. Have More Fun
There's this opinion among a lot of indie authors that marketing is a slog and its a pain to get through every single day. Video gives you an opportunity to add some variety to your author platform. You can film videos about anything you want. Most of those videos can be used for marketing.
It's not all about optimizing landing pages and getting your books into the right categories. So much of marketing is about doing it in your own creative way. Figure out how to incorporate your own style of video into your platform. You'll have a lot more fun that way.
The Next Big Step After Podcasts
Here on the Author Marketing Institute, we've discussed just how much podcasts are shaping the industry right now, but nothing lasts forever. Given the sheer amount of video content that younger readers consume, video is bound to be the next big step in author promotion. Be on the cutting edge by investing in video today. You may find yourself riding the wave to hundreds of new fans.