When you have a business that's solidly number two at something, you can either strive to reach #1 or abandon your position. Pepsi is the number two soft drink, and it's reveled in that slot with goofy comparison ads and celebrity endorsements. AT&T is the #2 cellular network, and it's pushed forward to enhance reliability and create memorable commercials. Barnes & Noble, the company behind the Nook Press publishing platform, however, has opted for the latter path.
Barnes & Noble has withdrawn significant financial support from its self-publishing platform. The business already lacked in several key areas compared to Amazon. Now it's starting to fall even further behind.
So, here's the big question: Is it still worth publishing there? It takes time and resources to get your book up on any platform, so you need to make sure that Nook Press is worth your investment. Here are five facts about the platform that may influence your decision:
1. Nook Is on the Decline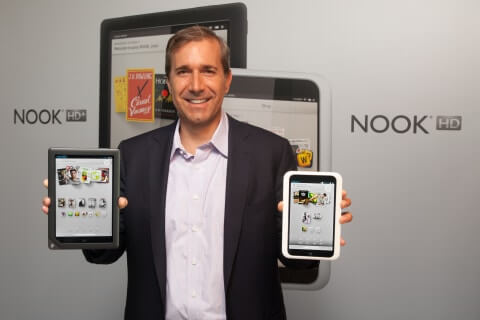 Before any kind of wide-sweeping statistics came out, it was obvious among indies that Nook Press was losing its grip on the #2 sales spot. Once the studies did come out, the numbers were no surprise. According to a Barnes & Noble press release, digital sales of ebooks were down 25 percent during the 2014 holiday season when compared to 2013. Seeing such a significant drop with more e-reading products out than ever shows just how far Nook Press has fallen.
Some authors expressed hope that the company's new offering of print on demand services might be a positive sign for the platform. Unfortunately, most pundits believe that the additional features are nothing more than part of a play to sell the struggling division. If they're right, then the future of Nook Press could have more to do with the company that buys the platform than the fate of Barnes & Noble.
2. Indie Authors Dominate the Bestseller Lists
One of the problems for Nook Press has been its poor user interface. Searching for the right book on the platform can be a challenge for Nook readers. In fact, some voracious readers have admitted to searching for books on Amazon and then buying them on Barnes & Noble. Their search engine is so bad it's literally pushing people away.
Searching the bestseller lists is similarly rough. That's why it was so important when Hugh Howey and Data Guy pulled statistics from the Barnes & Noble bestseller list as part of their Author Earnings project. Without that data, the media could label their Amazon findings as a one-platform fluke. The pundits needn't have worried.
Howey and Data Guy found that more than half of the books on the Barnes & Noble bestseller lists were written by indies. While the overall earnings from the platform were still weighed in favor of the Big 5 Publishing companies, the data showed that self-published authors have a major presence on the platform.
3. You Need to Pay Attention to Format
When Nook Press, formerly Pub It!, came into being, it looked a little half-baked compared to Amazon. Payment problems surfaced from time to time. There were issues with formatting and support. While some of those issues have been corrected in over two years of business, a few of them remain in place for indies to cope with.
Nook Press uses the ePub format. You'd think that would mean you could easily add in your Apple or Kobo version and upload it to the platform. The only problem is, that's no guarantee your file will be accepted. Formatting can be wonky on Nook Press, and you may upload a book that returns errors for no discernible reason. Nook Press doesn't seem to be in any hurry to fix these ongoing issues.
That being said, there are some formatting benefits to Nook Press. After you upload your book file, you can get a chapter-by-chapter look of your ePub file in a manual editor. Author Joanna Penn has said this editor allows her to easily switch in new front and back matter or fix errors without having to upload it all over again. This is by far one of the best book preview features of all the self-publishing platforms.
4. Support Has a Bad Reputation
Amazon and Apple have their shortcomings when it comes to support, but their customer service is golden compared to Nook Press. The retailer's support is notoriously bad. Many emails go completely unanswered, and the replies that are sent seem like they're simply meant to delay the issue. It can be more productive to unpublish a problematic book than it is to get Nook Press support to fix the errors.
With the withdrawal of financial backing from the parent company, it's doubtful this issue will change going forward. If you ever have questions or issues with a Nook book, then you should first take to forums like KBoards and ask other authors before trying to contact support.
5. Connections With Merchandizers Are Key
It's been a running theme with Kobo and Apple, and the theme continues with Barnes & Noble. Nook Press isn't built to give customers the best possible book for them. It's meant to sell higher-ticket items. To improve your sales at Nook Press, you'll need to make connections with Nook reps and present them with a strong pitch in the company's best interest. If you can convince them with numbers that promoting your $9.99 box set will do well, then you might be able to make it happen.
Meeting a Nook Press rep is about knowing the right people or visiting conferences where the reps will be in attendance. The latter may be more effective due to the face time you're able to secure. It can also be expensive to attend these kinds of events, but a $300 price tag may be worth thousands of dollars you could sell with a strong promo on Nook Press.
6. It's Still #2 For Many Authors
Despite all the problems, Nook Press continues to be the number two source of income for many authors. Even though the support is practically nonexistent and networking is a key part of success, it's a worthwhile platform if you're willing to work it hard. With enough high-quality books in your catalogue, four-figure months are definitely possible on Nook Press.
Get In While You Can
There's no telling what the future holds for Nook Press in 2015 and beyond. The retailer could stabilize and remain a major publishing option for indie authors. It could also tank, either to disappear or be absorbed by one of the other major platforms. Whichever path Nook takes, it's unlikely to happen until at least the end of the year. At least 5-10 good sales months remain for the retailer, and your efforts to build relationships with readers and reps will be well rewarded if Nook Press takes the more optimistic of the two paths.
Listen To This Episode
Press play below to listen, and be sure to subscribe to the podcast on iTunes to get updated on all new episodes.