Don't assume that money will solve all your self-publishing problems. There are plenty of authors who have hundreds to thousands of extra dollars to throw at their books without anything in the way of results. A little money spent in the right way during the publishing and marketing process can pay dividends, but you need to be smart about how you use it.
It's very possible to set aside $50 to $100 a month and turn it into a positive return on investment for your author career. Saving up that money is only the first step of the process. You need to avoid the financial errors of the spendthrift authors who've come before you. Here are 4 money-related mistakes you should avoid in self-publishing if you want to get the best bang for your buck.
1. A Lack of Planning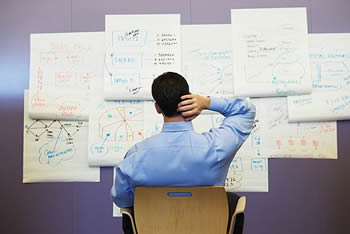 Authors on the outside looking in are quick to judge the success of erotica and romance writers. First of all, they assume that writing a compelling story in those genres will be easy, which couldn't be further from the truth. Secondly, these uninformed authors assume that romance authors are just printing money without any work or forethought. That's another falsehood, because planning ahead is incredibly important no matter what genre you're writing in.
Many business-minded authors use tools like profit-loss statements to ensure they're not spending more money than they could possibly make back. Artists may rebel against the idea of putting numbers into a spreadsheet to assess the viability of certain projects, but it's what a lot of very intelligent and successful authors are doing to not only make ends meet, but to turn a profit.
I heard a story the other day about a romance writer who spends $8,000 a month on Facebook ads to get over $10,000 back in return. A marketing plan like this requires extensive planning to make sure the efforts are all worth it. Dive into an ad platform like Facebook or Twitter without a plan, and you're bound to fail.
2. Failure to Save
The stereotypical image of a starving artist shouldn't be your ideal. You should seek to be an entrepreneur who can pay off her bills and keep the whole thing running well into the future. An author business typically doesn't appear out of thin air. It usually comes from careful financial foresight.
Authors can expect to spend between $500 and $1,000 for a website, email service provider, a cover, and a professional-level edit. If you don't have that kind of cash lying around, then you should save up several months ahead of time to cover the costs. Even when you have decent sales and can pay off some of those expenses with your profits, it's smart to stock some of that money away for a rainy day.
Create a savings goal after you've determined how much you'll need for a certain project. Balance your budget and write down a realistic amount that you can save per month. Create an automatic savings account that will pull the money out every week, two weeks, or month. The funds will exit your account before you can spend them. Before you know it, the amount of money you need will be available, and you'll be able to spend what you need on the building blocks of a successful book or series.
3. Spending Without a Goal
It's easy to spend hundreds of dollars on a promotion like a Kindle Countdown Deal or a few free days on a permafree title. Some authors are so results-starved that they'll put out this money for email advertisers and placement on a certain website without really knowing why they're doing it. Even if they have a successful promotion, the results might mean nothing without an end goal in mind.
Free promotions and discounts are best used when you have multiple books in a series, and yet many authors will spend unnecessarily on a two-book series or even a series starter. If your goal is to get more people into a series, then you should have a series to send them to. Don't promote your series starter unless you have at least three books out. Make sure that your goal is business-minded and you pick promotional methods that let you track the results.
4. Trusting Before Research
Traditional publishing has the money to put out a full-page ad in the New York Times when they feel like it. Aside from not having the money to do the same, you wouldn't even want to consider marketing like this. There's no possible way to track that your sales have come in through an ad like that. A small business needs to be incredibly smart with spending, and all of that starts with research.
Let's go back to the free and discount book promotion sites for a second. There are hundreds of these, and all of them boast large numbers of Twitter, Facebook, and email followers. It's easy to be swayed by numbers, but you need to hold out for proof.
BookBub is the top dog in author marketing because hundreds of people have said that it works. There's proof, it's recent, and more authors sing the site's praises every single day. Some hypothetical site like Billy Bob's Book Deals may say it has thousands of Facebook followers, but you need to dig deeper before you buy an ad. Find previous people who've used the site and see how much engagement the site's Facebook page has. If you can't find any success stories, and there are fewer than 5 likes per post on the site's Facebook page, then you probably shouldn't spend money on the service.
Research results before you put out any money. This will save you from making a dumb promotional decision.
Get Out More Than You Put In
Long-term, sustainable author careers are built on smart financial decisions. There are going to be highs and lows over the next few decades for authors, so if you want your career to last that long, you're going to need to be smart with your money. Save what you can, spend what you need, and plan every single step to set yourself up for success.