Building up an email list is like getting your first car. With your hands behind the promotional wheel, you can do anything you want to directly market to your readers. Much like a brand new vehicle, however, you need to take care of your email list and make sure you're using it properly.
If you use every email to scream "buy my book," that's the equivalent of taking your new car out drag racing night after night. You might get a few sales here and there, but eventually, your email list will crash from too many unsubscribes.
Instead of using your list primarily to sell, you should figure out how to make a better connection with your readers. You likely know your ideal readers best, but here are five things you should consider sending the members of your list to keep them engaged:
1. New Releases and News
If a reader signs up for your list, then he likely wants to know when your new books are coming out. You should also let your readers know when something exciting is happening with your books, like an audiobook adaptation or your inclusion in a multi-author box set.
Aside from notifying your readers about any book discounts, it's a good idea not to go to the well one too many times. You shouldn't make selling your book the primary focus of every email.
Put yourself in the place of your readers. How effective would it be if a writer you knew and loved pitched you like a car salesman once a week? You'd probably get pretty fed up and unsubscribe after the second or third message.
When a new book does come out, make sure to promote it in a creative way. Many authors tie in giveaways with their releases to get their readers to spread the word. You can use a platform like Rafflecopter or KingSumo to turn your release into a viral event.
It's also a good idea to give your email list the first crack at a book at a discounted price. Allowing your favorite readers to save a buck or two makes them feel special and gives them incentive to stay on the list for all future deals. Your goal shouldn't be to milk as many dollars as possible out of your list. By treating your readers like you'd want to be treated, you'll keep them for life and turn them into true fans who'll spread the word about you and your books.
2. Personal Stories and Opinions
Many authors send nothing but new release information and news. If you're putting out new work only two or three times a year, there's a chance that the readers on your list may forget about you. After all, there are dozens of movies, TV shows, and books competing for their entertainment attention. To rise to the top, you need to connect with your readers on a personal level.
Some successful authors like Hugh Howey do a fantastic job with this. Howey writes dystopic fiction and sci-fi, but he publicly shares a lot more than his thoughts on the genre. He tells stories about his time working at a bookstore and his dreams of sailing around the world. The bestselling author also shares his point of view on issues related to indie publishing vs. traditional publishing.
Howey sends his subscribers what he cares about. It's possible that some or many of his readers won't care about every post, but what they do care about is connecting with someone who has made himself open. Howey doesn't hold anything back and neither should you.
Consider writing about your journey as an author. Write about your successes and your struggles. Discuss what parts of your life have inspired your stories.
At the end of these emails, ask your readers if they've had any similar experiences. You'd be surprised at how many fans will respond with their own tales of woe and joy. In a world that can be scant on real, personal connection, these emails give your readers a chance to link up with someone they care about. When you consistently deliver emails like this, you'll make more than fans. You'll make friends.
3. Bonus Materials
In some cases, you'll be lucky enough to stumble on people who are huge fans of your work. These voracious readers will eat up every last word you create and beg for you to write more as soon as possible. When you find and impress a person of this ilk, you've found yourself a true fan who might buy your books for the rest of your life.
However, not all fans are found; some are made. One of the ways to turn a casual reader into a fan is by letting him behind the scenes of your work. When you provide your readers with exclusive glimpses of your pre-finished work, it makes them feel a deeper connection and anticipation for the upcoming book.
Provide your list with exclusive excerpts from your unfinished work. Give them a peak at the cover before you reveal it to your social media accounts. Create dialogues between characters that can't be found anywhere else.
At first, it may seem like these methods are only reaching a few people at a time. If you keep it up for months or years, however, you'll find that more and more people will start to clamor for these "special features." They'll begin buying your book as soon as it hits the virtual shelves.
At the very least, seeing a few fans get excited about your upcoming book can help give you the motivation you need to finish it on time.
4. Books You Enjoy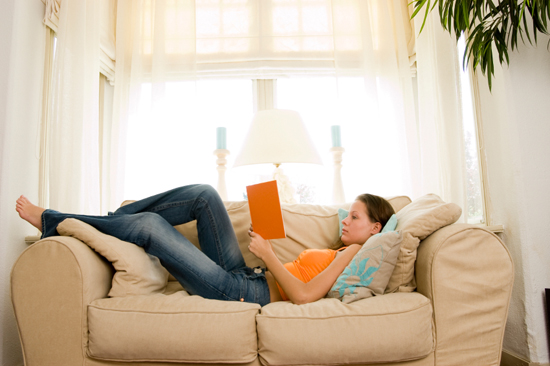 In this golden age of indie publishing, some of your superfans are likely reading the work of multiple authors at once. They do this partly out of necessity, as their voracious reading habits would never be satisfied by one book every three to four months. One of the best ways to keep your two-book-a-week readers happy is to give them recommendations of the books you love.
It's a questionable sales practice to send readers away from your list and to the books and lists of others, but it's a great way to form camaraderie. When you share your favorite books of the year or the ones that have shaped your career, you open the possibility of connecting with your readers over your mutual admiration.
There doesn't have to be an iron wall between you and your fans. When you and a reader love the same book, you can encourage a deeper connection between the two of you. As you create a stronger bond with more readers, they'll be more likely to read all of your emails and buy your books in the future. At the same time, you'll be able to show your support for another author who's likewise trying to link up with her own fans.
5. Gratitude
Readers who are willing to hunt for and open your emails in the midst of spam, advertisements, and work correspondences deserve your thanks. While you should thank your fans in all of your emails, every so often, it's important to devote an entire email to your gratitude.
Authors live in an amazing time where words that once sat on their hard drives can now be broadcast out into a world without gatekeepers. When a person is willing to read those words and request to read all the pages you'll ever put out for the foreseeable future, you should give them a hearty thank you.
You can write about how gathering fans and connecting with them has made you feel. Once you've expressed your emotions, you can add some kind of gift to show how much you care.
Maintaining Your Vehicle
It's exciting to see a reader agree to sign up to your list. It's even more rewarding to give the fans what they want and let them become a deeper part of your writing life.
There'll be bumps in the road and you'll make occasional wrong turns, but if you commit to showing your readers who you really are, your true fans are bound to stick around for the ride.
Listen To The Show: